My New Studio Setup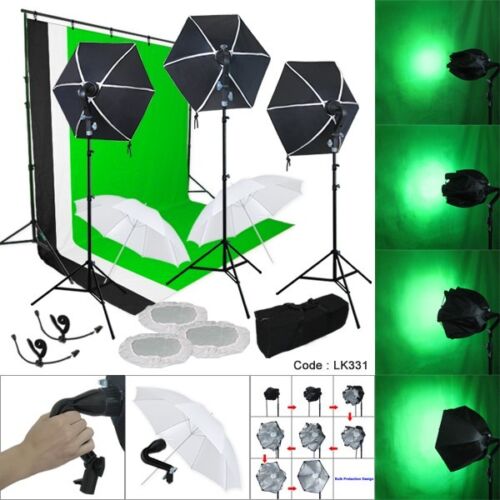 I recently purchased an ebay studio kit from a company called "LINCO" and thought I would post a hands on review for those who might be considering such a kit. But first, a bit of background. I've got over 40 years as a professional photographer. On 9/11/06 I had a massive heart-attack that retired me. After being told by my doctor that I had limited time left, I sold my studio equipment but kept my camera and lenses. Now, 8 years later, feeling that I might have a longer life than expected, I want to get back into studio work shooting pets. I figure that will be a fairly low stress, low exertion field that I can do out of my condo. However, until I see how things are going to progress, I don't want to spend a lot of money on equipment. For that reason, after looking online at various setups, I chose this LINCO setup.
The product was delivered packaged well and in a timely manner. First impressions were good.  One thing to keep in mind while reading this review is that the whole setup cost only $134.  I did not expect pro quality equipment but was pleasantly surprised at the quality.  My only problem was that one of the bulbs was broken on arrival. I contacted the seller and they responded within minutes.  A side note here: In all my years as a professional, I have never dealt with a company/seller that had better communication procedures than LINCO. They answered my emails within a few hours at most and were most accommodating.  My replacement bulb has been shipped and I expect it in shortly.
In today's post, I'll discuss the background stand and accessories. In a later post, I'll discuss the lights.
The bg stand comes in its own canvas bag. The bag is very sturdy and has a separate section with velcro closures for the four cross bars.  The stands are definitely not designed to stand up to commercial use.  However, for the beginner just starting out, they are sufficient if used carefully.
ID: Linco#4151 77″ x 120″ Background Support System
Qty: 1
2 x 8816 Linco ZENITH 77″ Compact Backdrop Stand
*Height Adjustable from 29″ to 77″
*Width adjustable from 5ft to 10ft
*3 Sections Backdrop Stand1 x 4222 Linco 10′ 4-piece/set Senior Crossbar
*4 sections.
*Adjustable width:5ft 7.5ft 10ft.
*Easy to use.

1 x 3178-12 Light Stand Carrying Bag
*Custom designed for background support kit and photography accessories.
*Made of good oxford nylon.
*Maximum load: 25lbs.
The backgrounds supplied are only useful for headshots and/or product use.  At only five foot wide, unless the subject is standing/sitting next to the backdrop the sides are going to show.  Ideally, the subject should be at least 3′ to 5′ from the background to leave room for a bg light and to avoid shadows.  I'm used to working with 10′ wide muslins so these will take some getting used to.  I have a couple of 10′ x 20′ backgrounds available so I'll see how they work. I'm concerned that the weight will be too much, particularly the heavy black non-reflective background.  I'll post on that later.
I do need to mention though, that everything was just as described online so this is not something that wasn't expected.
As for the accessories shown below: useless for anything but the included backdrops. The two holders reach about 1′ max so they are only usable when using two crossbars with the supplied backdrops.  The 5 helpers/clips are two small to be really usable.  I'll use clamps such as these to clamp the background over the crossbar.
ID: Linco#4216-1 Linco#4216-1 Backdrop Holders
Qty: 2
4216-1 Backdrop Holder ?Easy Adjustment To remove wrinkles and unevenness shown on the muslin, hold onto the button as shown and slide the attached clip to the best location. Adjust each muslin holder so that there are fewer wrinkles and unevenness in the muslin. For further and more precise adjustments, you can unclip some muslin holders and slide them to locations where wrinkles and unevenness are present. ?Superior Quality and Light Weight Linco muslin holders are super compact, lightweight and of high quality. They are made of genuine leather and high, durability elastic material with an exclusive Linco engraving. Linco muslin holders are only 1/13th the weight of the, conventional muslin clamps
ID: Linco#4228-1 Backdrop Holders (Backdrop Helper)
Qty: 5
*Used on crossbar (Diameter<28mm).
*Help you change backdrops faster.
*Maximum load:5lbs